This reflective piece deals with the theme of loss. Loss comes and visits us as an unwelcome stranger, but one cannot escape loss. It seeks us out, finds us, whispers in our ears and teaches us very cruel life lessons. But, I guess, that's the point. We're here with all life has to offer. Each day we are living, we have choices about embracing the day. So, this blog is about music. About creativity. About life. About death. Most importantly, it is about staying true to your dreams.
I spent my early teen years scouring music shops in Dublin looking for cymbals for a little white drum kit my mother had bought me. It was a basic second hand Pearl Kit and I received it as a surprise present one Christmas when I was fourteen. I was hooked. I spent hours and hours in the basement of our large Georgian home on St. Mary's Road in Galway pounding on that kit. Unfortunately, I never became a proficient percussionist (a little like Ringo Starr I wasn't even the best drummer in our band), but I did have heart. I loved the rhythm of a drum kit and I loved the feeling of sticks on skins. Oh, and back then my mother had a Peugeot Estate car. Very important when one is in an aspiring musician.
'The Hungry Judges'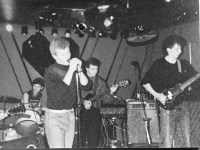 Later, when I was a University student, we formed a band in University College Galway called 'The Hungry Judges'. Our first big gig, I remember, was in a place in Eyre Square and we billed the gig, 'Live at the Beehive' on all our posters. The gig was packed to the rafters and, true to form, my mother, Chris, came along with all our gear in her trusty Peugeot. Oggie from Donegal puked on her, but that's for another reflective piece. My younger brother, Shane, took cash on the door and wore a splendid dicky bow for the occasion. What a professional outfit we were. Actually, we were a truly inter-disciplinary band with guys from Science, Arts, Commerce and Science making up our Quartet. That to me was the essence of University life.
The four of us practiced away in the basement of my home 'til late at night and, many times, early into the morning. Often, random party goers coming back from 'The Warwick', 'The Oz' or 'The Beach' in the half light would drift down to the basement and knock on the door gaining entry and, often, sandwiches from my long suffering mother, who incidentally, came along to our opening gig. We later played Rag Week and in various locations around town.
On lead guitar was Jonathan, on base was Fozzy, on drums myself and Eamon was on vocals. It was the latter part of the 1980s and we were influenced by and played lots of The Smiths, The Cure and The Housemartins to name but three of our favourite bands of the time. I remember well how Jonathan loved his Wah Wah pedals and would jam off them in live gigs, totally changing the sound for us all. He sometimes surprised himself as much as he did the rest of us. I loved music then. We all did. Our life revolved around music, the liberal arts and exams.
A Hat Full of Hollow
BandShotWe completed University studies and all drifted our separate ways, as is so often the case with college enterprises. I started a new job and left my drum kit in a spare room in my new house in Waterford only returning to it every now and again. My life became 'super busy' and I temporarily lost my love of music with so many other 'important' distractions at work. But, then in the last few years I rediscovered music. I now listen to, on average, six hours of music daily as I work on various projects and our Book Hub Publishing Office always has music on and incense burning as we did back in our University days. I'm back going to live gigs to support other musicians and am back in my music groove. I love it. I feel at home.
Recently, I had a big birthday and old photos were dragged out so family and friends could mercilessly rib me. One of them was of the four of us, 'The Hungry Judges' smiling in our first arty photo shoot taken in the grounds of St. Mary's College in Galway. Another was of us playing Rag Week. A third was playing the Beehive gig. I smiled at those memories.
And, then, I was in Galway City on Saturday afternoon and happened on another friend from the old days whom I sometimes bump into when down the old quarter of town. He had been to a few of our gigs and knew the lads in the band. Myself and Alan, who is now a Professor in NUIG where we used to play, were having a pint in the Galway sun outside Neachtain's Pub and he just dropped in the conversation, "Did you know Jonathan died a few years ago in March, 2015?" I did not and I was really taken aback in that moment. I was stunned. After I gathered myself, we chatted about Galway in the '80s, pre social media and how important music was to us all as undergrad and, later, postgrad students. And I fondly remembered Jonathan in his green jacket, faded jeans, desert boots and smile as he played his guitar on stage with us. It sounds clichéd but we all felt more 'alive' gigging.
This Charming Man
One of Jonathan's favourite songs to play on stage was by The Smiths – 'What Difference Does it Make?' He adored Marr's jangly guitar riffs. I suppose as I look back now three decades later I can answer that question posed by Morrissey. It makes a massive difference. So, never let go of what you love in life, of what you really connect with, of what connects with you. Never get too busy with the unimportant things in life. Be defined by what and whom you love, not by the ridiculousness of work and of career climbing – because work really is only work.
I'm listening to The Smiths as I write this Jonathan. I'm thinking back of our time in the basement of St. Mary's Road. Of the expectation of a live gig. I know you'd smile at that. This is for you…